Strobe Sounders EPA-72s
Rated Voltage:12VDC
Operating Voltage:6-15
Max. Rated Current:300
Min.SPL:110+/-3
Resonant Frequency:
Tone Nature:
Housing:ABS Housing In Red Or White
Operat. Temperature:
Store Temperature:
Weight:13.5
Remark:580*240*450mm 100pcs
Established in 1999,DSW is professional in manufacturing fire alarm sounders and strobe sounders as per customer's specification.EPA-72 Fire Alarm is a highly nonreactive fluoropolymer thermoplastic with a high voltage coefficient piezoelectric, wide response frequency, and excellent mechanic properties. The piezo alarm  produces sound based on reverse of the piezoelectric effect. The generation of pressure variation or strain by the application of electric potential across a piezoelectric material is the underlying principle.
Importance of Strobe sounders
Fire sounders are essential components of any fire alarm system. They are responsible for producing the audible alarm that alerts occupants of a building in the event of a fire outbreak. When a fire alarm is triggered, the sounder produces a loud, distinct sound that is designed to grab the attention of anyone in the building.
Decibel levels and their significance
Decibel levels are an important consideration when choosing a fire alarm sounder. Decibels (dB) are a measure of sound intensity, and the higher the decibel level, the louder the sound.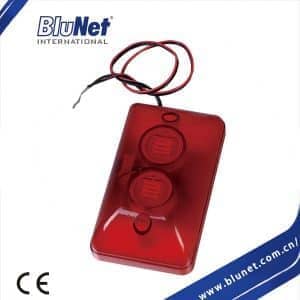 However, in larger buildings or noisy environments, a higher decibel level may be required. The International Building Code (IBC) recommends a minimum decibel level of 85dB for fire alarm sounders in most commercial buildings. In some cases, a decibel level of 110dB or higher may be required.
It is important to note that high decibel levels can be harmful to human hearing. Therefore, it is essential to choose a fire alarm sounder with a decibel level that is appropriate for the size and noise level of your building.