Siren Speaker Driver H105
The DSW H105 Compression Driver for Siren speaker is ideal for use in burglar alarm, fire, ambulance, and home security device.
The siren speaker driver is equipped with a self aligning sound chamber assembly containing high quality diaphragm with a nominal impedance of 8 Ohms.
driver used in 20 or 30 Watt Outdoor Siren or Control Panel
High dB output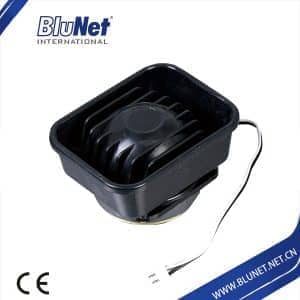 Specs
Manufacturer: DSW Industry
Impedance:80hm(at 1KHZ)
Voice Coil:25.4mm(Dia.)
Magnet:70*32*10mm(Dia.*dia*H)
Reson Freq:Fo.1.5KHz+/-10%
Power Rating:Power Rating RMS:20W;Power Rating Peak:30W
Min Spl:95+/-3db(at 1 meter,2.83V,1000Hz)
Color: Black
Material: High impact plastic
DSW speaker is the loudest horn in  alarm system ou can buy today. It can be installed inside of  outdoor sirens.
The horn speakers are efficient, incredibly durable and loud. They are often used in burglar alarm system, house security system such as home, airports, factory buildings, camping sites and office building. Horn speakers are most powerful in the mid-range and higher frequencies.