Electronic Siren ES-91T
security piezo sirens, DSW's electronic siren ES-91T are specially designed as advanced electronic audible signaling devices that are extremely cost effective with piezo sounder.
Emitting less extraneous noises because it has oscillator in the circuits design.
Dual Tone 15 Watt Siren.
Features
Dual tone siren – steady and warble
Indoor/outdoor use
High dB output
Specs
Manufacturer: DSW Industry
Operating voltage: 6 – 14 VDC
Sound output: 110 dB @ 12 VDC
Current draw: 1.1 A @ 12 VDC
Dimensions: 3.5″
Color: Black or Optional
Material: High impact plastic
Distortion of this crystal occurs when a stress is applied to the element either thermally, mechanically or electrically. For piezo sounder applications a metal plate is typically attached to the ceramic element and it is this plate which vibrates due to the expansion and contraction of the piezo ceramic the resonant frequency of the ceramic is too high to produce an audible tone directly itself).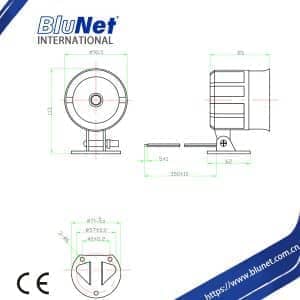 DSW Siren is the loudest dual tone piezo siren alarm at 3.5 inch diameter. It can be installed indoors or outdoors.
Our Alarm siren is a great addition to any compatible security alarm system. The alarm siren is a 6-12 V DC combination speaker and siren driver. DSW alarm siren is dual tone – warble or steady.