Horn Speaker Driver H104S
DSW Industry is one of leading manufacturer in horn speaker driver, siren alarm, outdoor siren, smoke alarm, motion detector over 20 years.
The DSW'S horn speakers are efficient, incredibly durable and loud. They are often used inside of outdoor siren, burglar alarm system, house security system such as home, airports, factory buildings, camping sites and office building. Horn speakers are most powerful in the mid-range and higher frequencies.
Dual Tone 15 – 20Watt Siren.
Features
Indoor/outdoor use
High dB output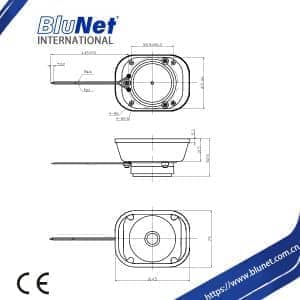 Specs
Manufacturer: DSW Industry
Operating voltage: 6 – 14 VDC
Sound output: 120 dB @ 12 VDC
Current draw: 1.1 A @ 12 VDC
Dimensions: 9.25″ x 6.1″ x 8.1″
Color: Black ABS Plastic
Material: High impact plastic
DSW horn speaker  is inside of loudest self-contained dual tone alarm siren you can buy today. It can be installed indoors or outdoors.
Our Alarm siren is a great addition to any compatible security alarm system. The alarm siren is a 6-12 V DC combination speaker and siren driver. DSW alarm siren is dual tone – warble or steady.