External Siren Manufacturer
DSW Industry is the leading outdoor siren and external siren manufacturer in China and provides high-quality exterior sirens designed and engineered for a house alarm system as per customer requirements.
What is An external siren?
An external alarm siren is a device designed to produce loud sounds and flashing lights to warn others of an intrusion or emergency at a property. It is typically connected to an alarm system which activates it upon detection of breaches; its tones and patterns indicate both type and level of threat; it acts as a deterrent against potential intruders as well as helping locate it if needed in case of emergencies.
Features of External Siren
MCU design in the circuit.
Dual tamper switch
multi functions High SPL 118Db min.
4 LED flash when multi standby functions Led.
Serious metal protection Plastic case prevents ants and insects.
Line broken warning.
With 12V1.3Ah Battery rechargeable.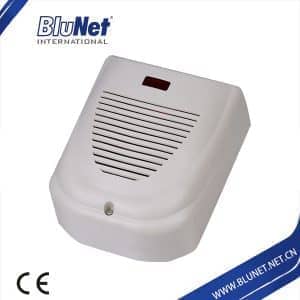 A self-contained siren is a noisemaking device where the siren driver and speaker are included in the same unit. This is not to be confused with a standalone speaker, which requires an added siren driver. A self-contained siren will typically require some output from the panel.
External Alarm Siren EAS-150
The EAS-150 is a self-contained siren with a tamper and resistant ABS enclosure, which is a unique design for anti-intrusion, house alarms, burglar alarms, and security systems.
It features two sealed reed tamper switches, one on the back plate and one on the front cover.
The switches are typically closed and pre-wired in series. The EAS-150 can produce two distinct sounds from a single input trigger.
Outdoor battery backup siren with a flashlight.
Double housing: external-3mm plastic PC with UV,internal-0.8mm metal.
Continuous frequency modulated sound Tamper protection in 3 ways – screw or cover the opening or tearing housing from the wall Positive and negative alarm trigger inputs Trigger input to activate only the flashlight Siren period can ser as follow trigger or 3 min cutoff Selector for a lamp or Xenon Alarm by primary power failure Protecting against totally battery discharge.
Plug terminal for easy installation Environmental immunity.