Outdoor siren with flasher EAS-400LED
The EAS-400A outdoor siren with flasher is a self-contained siren with tamper switch is special design for anti intrusion, intrusion alarm, burgular alarm, security system.
MCU design in circuit.
multi functions High SPL 118Db min.
4 LED flash when standby multi functions Led.
Serious metal protection Plastic case provent ants and insects.
Line broken warning .
With 12V1.3Ah Battery rechargeable.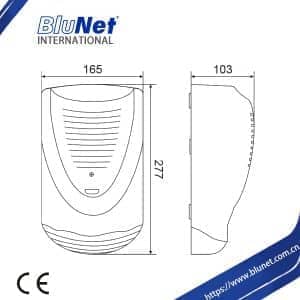 Outdoor siren with flasher EAS-400A
The EAS-400A is a self-contained siren with tamper and whether resistant ABS enclosure, which is special design for anti intrusion, intrusion alarm, burgular alarm, security system.
It features two sealed reed tamper switches, one on the back plate and one on the front cover.
The switches are normally closed and pre-wired in series. The EAS-400A can produce two distinct sounds from a single input trigger.
Outdoor battery back-up siren with flashlight.
Double housing: external-3mm plastic PC with UV,internal-0.8mm metal.
Continuous frequency modulated sound Tamper protection in 3 ways – screw or cover opening or tearing housing from the wall Positive and negative alarm trigger inputs Trigger input to activete only the flashlight Siren period can ser as follow trigger or 3 min cutoff Selector for lamp or Xenon Alarm by main power failure Protecting against totally battery discharge.
Plug terminal for easy installation Environmental immunity