Optica Smoke Detector DSW98D
The product is Optica Smoke Detector or photoelectric smoke alarm, it is generally more effective at detecting smoldering fires which smolder for hours before bursting into flame.Sources of it fires may include cigarettes burning in couches or bedding. It accords with the ISO/DIS 12239 Standard.
The Detector uses an infrared photoelectric chamber.
Detection is accomplished by sensing scattered light from minute smoke particles or other aerosols.
It is very easy to install using the two screws provided to mount the unit to the ceiling or wall.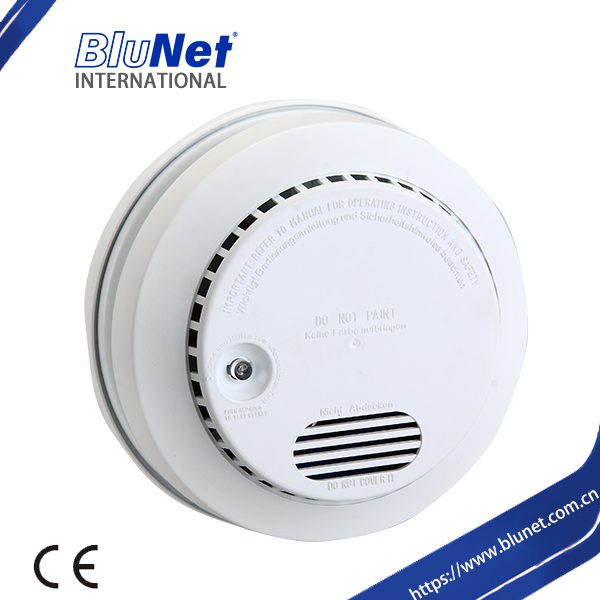 Feature:
The detector has a >85dB onboard siren and LED indication.
HOW TO INSTALL SMOKE ALARMS
Tools you will need:
*Pencil *Drill with 6.5mm drill bit *Standard/Flathead screwdriver *Hammer
1. Hold base firmly and push the hinge in then turn anti-clockwise,so release the base down.
2. Hold the smoke alarm base against the ceiling(or wall) and make a mark at the center of each of the mounting slots with a pencil.
3. Place the unit where it won't get covered with dust when you drill the mounting holes.
4. Using a 6.5mm drill bit,drill a hole through each pencil mark into 35mm deep.
5. Insert the plastic screw anchors into the holes and tap them gently with a hammer.Tighten the 3*30 screws into the screw anchors,then loosen them two turns.
6. Slide the smoke alarm base up to the screw heads end up in the narrow ends of the mounting slots, then tighten the screws completely.
7. Insert the 9V battery into the the box, make sure the red pry is under the battery,so the battery is stable. Diagram 3.
8. Ensure to insert battery before you install the alarm,or you will destroy the unit.
9. Close the cover with the alarm according to Diagram 4,and then finish your installation.
The product is a new type of photoelectric smoke detector, When it detects smoke twice,it will output signal immediately and trigger connected unit to work,which tell you in advance that fire will occurs and avoid unwanted loss,and take you safety and convenience.