Emergency Exit Light 8051 COMBO
Emergency exit sign and emergency lighting refer to signs and fixtures designed to illuminate and guide people out of buildings during power outages or other emergencies, according to federal and state safety regulations in public and commercial properties.
Combo Exit Signs combine an exit sign with top, side, or bottom mounted emergency lights into one convenient package – keeping you code compliant while offering convenience and safety. LED Combo exit signs offer all-in-one LED solutions to meet both emergency lighting requirements as part of their design.
Exit sign with emergency lights must remain visible at all points of egress as well as provide illumination for at least 1.5 hours after normal lighting has failed.
Item
Panel Color
Housing Color
IR Test Option
Application
Packing
8051COMBO
R: Red

G: Green

W: White

B:Black

IR1:30sec test

IR2:30sec or 90min test

DL:Damp Location
4PCS/CTN

11.6KGS(N.W.)14KGS(G.W.)/CTN

0.0623CBM/CTN(2.20CBFT/CTN)

1896PCS,474CTNS/20"CONTAINER
Types of Emergency Exit Combos
There are several types of emergency exit combos available, each with its own unique features and benefits.
– LED emergency light combos
– Incandescent emergency light combos
– Fluorescent emergency exit light combos
– Self-luminous emergency exit light combos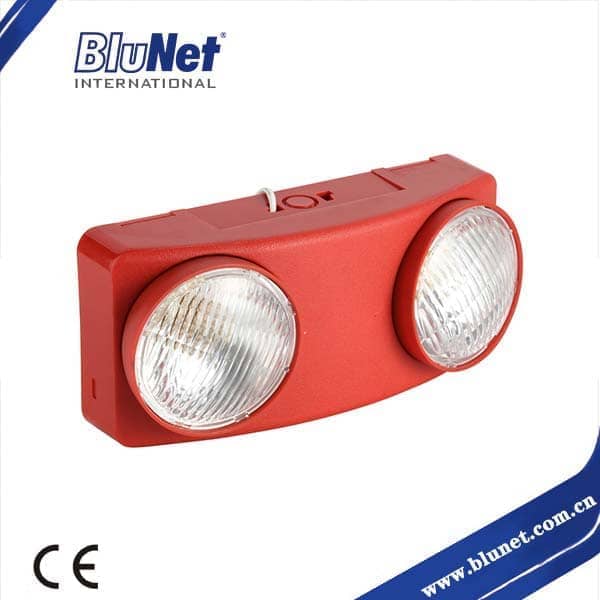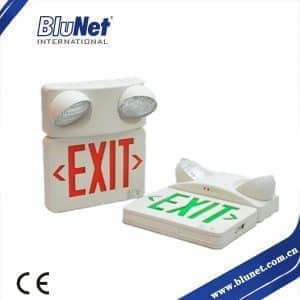 STANDARD FEATURES of Emergency Exit Light
Injection-molded thermoplastic ABS housing.
UL 94V-0 flame rating.
The innovative. the snap-together design allows for fast installation.
Replaceable directional chevron inserts are easily removed and reinserted.
Letter 6" height with 3/4" stroke.
Single or double-face configuration.
Two fully adjustable glare-free round shape light heads for emergency light.
MOUNTING: Universal(Wall. Side or Ceiling)mounting.
Housing snaps to the canopy with a simple twist and locking tightly secure housing to the canopy.
ELECTRICAL FEATURES
Universal from 90VAC up to 300VAC free voltage operation.
Low energy consumption-2.3 watts at normal operation,12 walls at emergency operation.
LED indicator light and push button test switch.
LAMPS
LEDs mounted on print circuit board (for Exit Sign)
LEDs lamps are operating in normal (AC input) and emergency (DC input ) modes
2×6V 5watts DC T5 wedge base lamps for emergency mode.
BATTERY
Lead-Calcium Battery (6V4 5AH)
24hours recharge after 90minutes discharges
Low voltage battery disconnection-preventing deep discharge damage to the battery.