Magnetic Sensor MCS-3102
A magnetic sensor is a sensor that detects the magnitude of magnetism and geomagnetism generated by a magnet or current. There are many different types of magnetic sensors manufactured by DSW.
Reliable, quality products at an affordable price – DSW.
Surface Mounted Magnetic Contact
Magnetic door sensors are commonly used in alarm systems to trigger the opening and closing of doors and windows and consist of two parts encased in a plastic shell — a magnet and a sensor/switch.
Door sensors are also referred to as entry sensors, contact sensors, or window sensors.
We will explore how door sensors operate by learning how they connect to control panels and program their programming panel step-by-step.
Detailed instructions, code explanations, wiring diagrams, and video tutorials will assist you in quickly getting up and running with these contact sensors.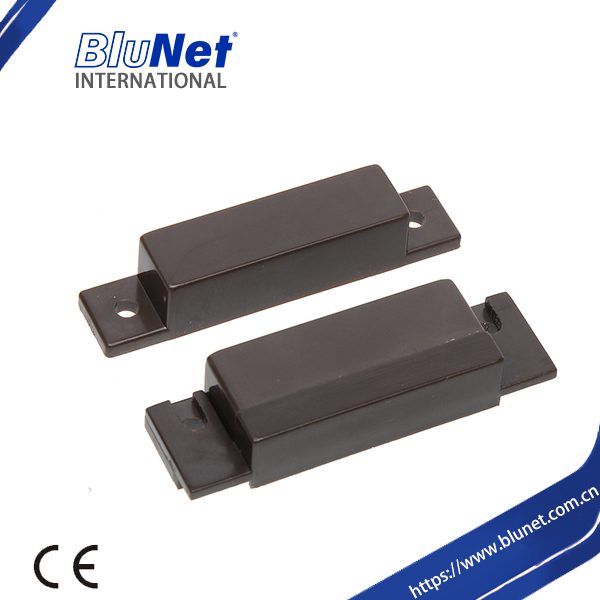 Features
substantial magnetic, long gap
Compact size allows for easy concealment
Quick installation
Magnetic Contact Alarm Switches
Wire contacts to an alarm system to alert when doors or windows are opened. Mount the magnet to the door or window and mount the switch to the frame. The alarm will activate when the opening door or window pulls the appeal away.
SPDT switches connect to an alarm system and another device, such as a motion detector.
Specs
Manufacturer: DSW Industry
Max. Sensing Distance:0.75″
Current draw: 0.5 A @ 100 V AC/100 V DC
Dimensions:2.5″x0.56″x0.5″x
Color: White or Brown
Material: ABS
Sensors with Configurable Contacts
Most alarm system door and window sensors are hard-wired to be normally open (NO). Some contact switches have both NO and Normally Closed (NC) contacts. If your hardware has this option, use the NO contact.
Magnetic Contacts Supplier
DSW has specialized in manufacturing Magnetic Door sensors, Alarm Switches, siren alarms, and motion detectors.
The magnetic door sensor switch connects easily with any home alarm system or alarm with a flashlight or sound network output, providing multiple door and window alarm contact applications.